City Forest Credits is a 501(c)(3) nonprofit carbon registry that manages carbon and impact standards for metropolitan areas in the United States.
Prior to founding the organization in 2015, we spoke with urban forest leaders and science experts about the lack of public funding for declining city forests and inequitable distribution across neighborhoods. With a collaborative cross-sector team, we developed two innovative approaches to address these problems.
We offer two services for the private sector to contribute to local climate action and enrich our communities. Companies can purchase carbon offsets from urban forest projects, or invest in certified planting projects with health, equity, and environmental impacts.
Our foundation has provided multi-year support for City Forest Credits. We cannot imagine a team better equipped to do this important work – top forest scientists, experience in law, business, nonprofit, urban forestry, and carbon, with the support of organizations across the U.S. The work of City Forest Credits should become a global standard.
—Lauren Taubman, Trustee
Herman P. and Sophia Taubman Foundation
Our Supporters
We couldn't do this work without generous funding from our supporters. Thanks to the Polsinelli law firm for its legal work on intellectual property issues.
Doris Duke Charitable Foundation
Herman P. and Sophia Taubman Foundation
Laird Norton Family Foundation
McKibben Merner Family Foundation
Beardsley Family Foundation
American Forests is proud to support and partner with City Forest Credits to accomplish something that is long overdue – putting our urban forests into the carbon markets. CFC articulates better than anyone the premium value of a carbon credit from city forests. These credits are like the rare earth minerals of carbon credits – lower in volume, higher in price, but extremely valuable to companies because the multiple benefits are delivered to where 80% of the population resides – in cities and towns.
—Jad Daley, CEO
American Forests
Science Experts
Quantification and verification
We are supported by urban forest managers, scientists, and subject matter experts across the country. Find technical information including the Standard, Protocols, and Validation and Verification requirements on the Standards/Protocols page.
Two main contributors to the work of City Forest Credits include:
Dr. Greg McPherson—Retired Research Scientist, U.S. Forest Service
Dr. Greg McPherson is an internationally known scientist who pioneered the quantitative analysis of urban forest benefit-cost analysis. He founded the Center for Urban Forest Research with the U.S. Forest Service's urban forest research unit in Davis, CA. Greg led development of the Carbon Calculator and of the quantitative methodologies on two urban forest protocols in California. Greg has published over 135 peer-reviewed articles and won numerous awards for his work, including the U.S. EPA Honor Award and the U.S. Forest Service 2008 Chief's Award for Engaging Urban America. He has served on the editorial boards of a number of journals, including Urban Forestry and Urban Greening and the Journal of Arboriculture and Urban Forestry.
Dr. Gordon Smith
Dr. Gordon Smith brings many years of experience in carbon accounting, greenhouse gas standards, verification, and implementation. Dr. Smith is a member of the editorial board of the journal Carbon Management; Greenhouse Gas Management Institute advisory committee; accredited expert with the Verified Carbon Standard in afforestation/deforestation, improved forest management, avoided deforestation (REDD), and agricultural land management; and AFOLU Technical Committee of the American Carbon Registry.
Our Management Team
Mark McPherson
Executive Director and Founder
Mark is a lawyer and business person that has been active in urban forestry for many years. He drafted the first conservation easement for the City of Seattle Heritage Tree Program over 25 years ago. and received a Founder's Award from a tree preservation group in Seattle for his legal work in many tree cases. Mark served on the work group at the Climate Action Reserve in 2013-14 that developed an urban forest carbon protocol. For the ten years prior to founding CFC, Mark managed a business and co-founded a website. He was a Morehead Scholar at UNC-Chapel Hill and has a Ph.D. and law degree from Harvard.
Liz has over a decade of experience leading complex social impact and environmental projects. From boreal forests of Canada to growing cities across the U.S., she is committed to driving change that benefits people and planet through innovative strategy and team leadership. Working with non-profit organizations, local government and Global Fortune 500 companies, she has demonstrated her ability to cultivate relationships across industries. Liz grew up in Seattle, Washington and holds a B.S. in Environmental Science from Western Washington University, Huxley College of the Environment.
Jen Kullgren
Senior Program Manager
Jen has been working as a community forester for almost a decade in Maryland, Pennsylvania, and Minnesota. She is inspired by bringing people together to foster natural solutions in the urban environment. She enjoys working with diverse communities to understand their needs and help them achieve their goals. She holds a Masters of Science and a Masters in Urban Planning from the University of Michigan.
Maria Schandl
Technical and Administrative Manager
Maria has worked with a legal consulting firm specializing in eDiscovery and database management. She is excited about urban landscape initiatives and holds a Bachelor of Science in Environmental Science, and a minor in Landscape Architecture, from the University of Oregon. Maria has volunteer experience with sustainable farms in the Pacific Northwest and she enjoys working on her community garden plot with the Seattle-based P-Patch program.
Rachelle Lim
Senior Project Manager
Rachelle is passionate about creating greener, healthier, and more equitable cities. She has experience in multi-partner collaboration in both the biotech and nonprofit sectors, working on a range of projects from global health systems strengthening to biofuels research and development. She received her M.S. in Oceanography at the University of Washington and B.S. in Biology at MIT. In her free time, she enjoys kayaking with her wife, doing volunteer forest restoration, and learning new languages.
Morgan Anya
Project Manager
Morgan has worked in project & program management, outreach, and analysis in the energy efficiency and sustainability industries for seven years. She is passionate about the greening of cities and enjoys pruning and planting trees as a volunteer in her home city of Chicago, Illinois. Morgan holds a Bachelor of Science in Biology, and a minor in Natural Resource Management, from Grand Valley State University.
CFC is governed under and is compliant with the laws and licensing of non-profit corporations in Washington state, as well as the Articles of Incorporation and By-Laws. The staff of CFC manage the daily operations of the Standard, and the Board of Directors provides oversight of staff and operations.
Our Work
A holistic approach
Our work spans three areas of focus: social equity, human health, and the environment. With the majority of the U.S. population in cities and towns, it is imperative that we create livable communities that support the health and well-being of all residents. Trees are one part of the equation in building a future for everyone to thrive.
See a map of current carbon and impact project locations, and check out projects on the Carbon Registry and Impact Directory.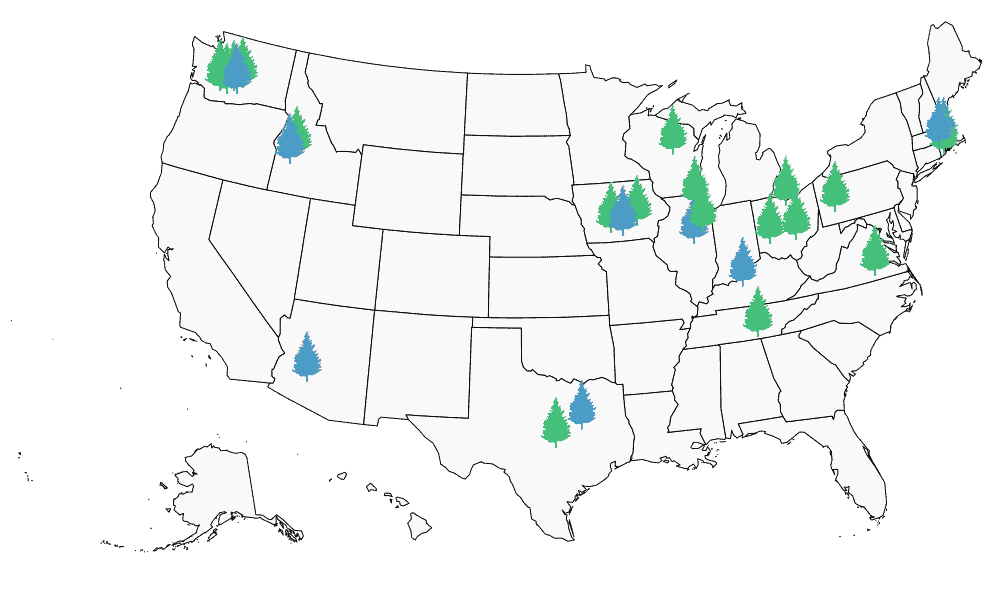 City Forest Research
Quantifying our valuable public resources
City forests in the United States provide $18.3 billion in benefits per year. This value is expected to grow as urban areas continue to expand. See the White Paper about the functions, scale, and value of city forests.
FAQs
Many non-profit urban forest organizations don't have capacity funding to scope or assess how a carbon program or impact project could work in their city. If you are interested in providing seed funding we can connect you with local partners that are seeking funding to lay the groundwork.
Our overarching goal is to provide new revenue streams for declining national urban forests. Whether that is a robust, long-term carbon program or a series of small but valuable impact certification projects, we want urban forest organizations and local government entities to be able to grow and care for the city trees and communities that rely on this public resource. We measure our impact based on the success of our local partners. 
CFC is a registry dedicated only to urban forestry. A carbon registry is a non-profit organization that administers protocols, rules, quantification methods, third-party verification standards, and issues and tracks carbon credits.
There are three large carbon registries that each handle dozens of other carbon project types, from gas plants to landfills to forest projects – Verra, American Carbon Registry, and the Climate Action Reserve.
The State of California developed an urban forest carbon protocol in 2011, and the Climate Action Reserve developed a second urban forest protocol in 2013-2014. But neither of those protocols resulted in any applications for projects. CFC and its many urban forest stakeholders nationally began their work in 2015 to create much-needed carbon credits for the public resource that is our urban forests.