Research confirms that nature in cities has profound and positive impacts on our lives. Analysis has shown that low-income neighborhoods often have fewer trees than affluent ones. Lack of green space can translate to disparities in heat and pollution exposure for residents. Equal access to trees and green spaces can alleviate environmental, health and economic challenges.
Based on the latest scientific and technical resources, the Impact Scorecard is the first project-scale tool to demonstrate human health, social equity, and environmental benefits of trees.
Equity is far more than simply planting trees. Community inclusion in site selection and decision-making throughout the process is key to addressing historical inequities.
That's why we connect businesses with local nonprofit or government partners on the ground. Local operators can design a project with community members that meets their needs.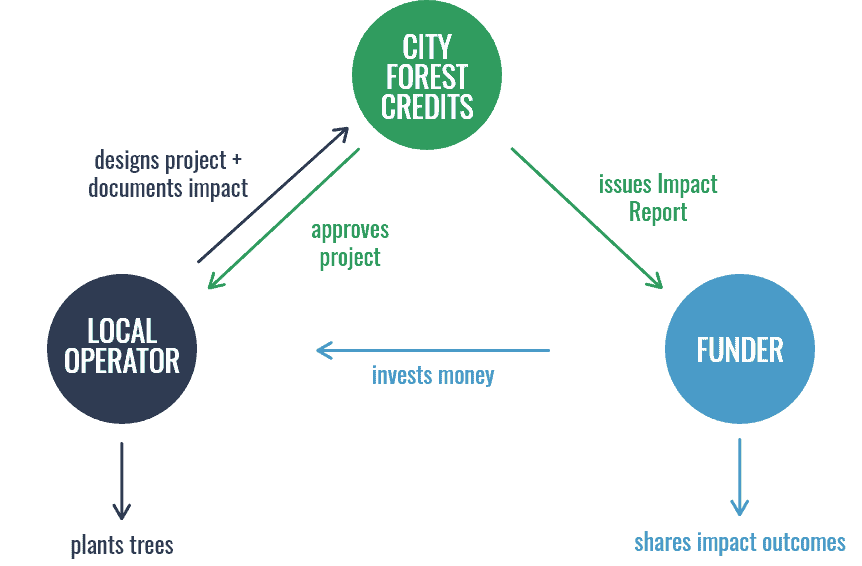 Businesses can fund a pre-designed project, contribute to the design process with a local operator, or provide funds for a project to be created in a location important to stakeholders.
A Closer Look at the Scorecard
The Impact Scorecard is divided into three categories. Each category is organized into 5 themes, with 15 impacts, and 30 indicators, for a total of 90 possible indicators. The indicators are the design elements that a local operator can include to achieve a target impact in a tree project, and are connected to supporting research and UN Sustainable Development Goals.
If you're located in a city that experiences intense heat waves and high temperatures, you may choose to focus on design elements that cool the air or create thermal refuge in busy public spaces. Site selection can include locations such as schools, hospitals or elder care facilities where trees will benefit vulnerable populations.
Here is a snapshot of one design element in the Impact Scorecard.

Local operators receive a score for each category in a project. See how it all comes together in the Growing Futures, Growing Trees program led by Trees Forever in Des Moines, Iowa.
Behind the Impact Certification
CFC worked with many stakeholders to develop the Impact Certification, including Dr. Kathleen Wolf. Dr. Wolf is a research social scientist focused on human dimensions of nature in cities, including public health. She screened hundreds of research publications about city trees and human health, then translated this science to performance metrics that are achievable and show tangible change.
The evidence about nature and health is compelling. Trees and forests are not just nice to have; they are profoundly important in our communities. And we have to pay attention to equity. Everyone needs nature.
—Dr. Kathleen Wolf, Research Social Scientist
University of Washington